Blast Away Abundance, Wealth, and Success Blocks

BLASTING BLOCKS EVALUATION SECTION

:
Before we step into an actual session of releasing, we do an Evaluation Section that will assist us to find and to address the conflicts and/or blocks to your Divine Birthright of Abundance, Wealth and Success. The sections we will work with are:
HABITS:
Before we step into a session that will release any conflicts and/or blocks re your Abundance, Wealth and Success, I will do a basic Evaluation session, which will address your habits, pain regarding money and your history; i.e. issues regarding money while growing up, family history including relatives plus any traumas related to money, even if it was not your experience but someone else's and more.

GOALS

:
In the Goal Section, we will also talk about your goals and what you visualize for yourself re Wealth, Abundance and Success.  This section will assist you to create the vibration of the reality that you desire by bringing you into alignment with your Subconscious, which is done by allowing your Subconscious to look for conflicts that prevent you from achieving your goals and desires.  Utilizing the Body Code to find these conflicts and/or blocks does help you (and all of us!) to achieve your/our goals faster because of our targeted questions to the Subconscious!
EMOTIONAL ISSUES:
In the Emotional Issue Evaluation Section, I check you to see if any of the positive and/or negative statements that I will have you repeat after me conflict with you in any way from achieving, acquiring and/or receiving your Divine Birthright of Abundance/Wealth and/or Success.  In this way, during your session where we do the releasing, we can bring you into alignment with your Subconscious, so you can progressively create your Abundance, Wealth and Success without the frustration, struggle and hopelessness that often occur!
MODE AND ALIGNMENT

:
This Mode and Alignment Section assists us to recognize the percentage of how aligned you are with your goals and/or desires to identify what the general level of conflict is.
After completing the Evaluation Section, you will now be ready to go into a session where we do the releasing.  This Evaluation session will perhaps take about 45 minutes to an hour!
---
BLASTING BLOCKS SECTIONS

:

EVALUATION SECTION

:

 
When we complete the Evaluation Section, we are now ready to do some releasing!  However, firstly, we will talk about how you are feeling/doing.
MODE AND ALIGNMENT

: 
Before I start releasing for you, I check your Mode and Alignment to Abundance, Wealth and Success – which means I check what the percentage is of your Abundant Mode – Stagnant Mode – Lack Mode.  We will also create a financial goal statement and then see where you are in alignment with that – percentage wise!
PRESENCE OF NEGATIVE VIBRATIONS

: 
We then step into the Presence of Negative Vibrations and what their underlying causes are and begin the releasing.
CONFLICTS WITH OR LACK OF POSITIVE VIBRATIONS

: 
Any Conflicts with or lack of Positive Vibrations will also be checked (referring to what we discovered in the Evaluation Section) and then releasing any underlying imbalances re them.
CHECK POSITIVE VIBRATIONS TO BE USED AS AFFIRMATIONS

: 
As you know, affirmations can be very powerful.  I will check to see which positive vibrations you may need to use as affirmations.  I will make sure you are in alignment with the positive vibration statement so when you utilize the statement, it will work for you beautifully and assist your Subconscious to be in the 'positive' mode state of being!
OTHER ISSUES OR IMBALANCES ADDRESSED HERE

:
Under this Section, I will keep track of any random issues that may have showed up here in this Session that were released for you!
MODE AND ALIGNMENT – AGAIN!

:
Before we end your session, I then check the Mode and Alignment percentages again, i.e. Abundant Mode – Stagnant Mode – Lack Mode to see how you improved. Then I have you repeat your Financial Goal statement to check what the percentage of your alignment is relative to this statement. This usually increases due to the releases during this session!
$540 Blast Away Abundance Blocks Package
The Blasting Away Abundance, Wealth, and Success Blocks Package entails six sessions (or there about) of clearing.  Each session will be approximately 20-minutes except for the Evaluation Process, which will take approximately 45-minutes to one hour. The cost for this POWERFUL package is $540 for the six sessions. If we find your energy requires more sessions beyond the package offering, the fee for each session is the regular Body Code session fee of $95/session.
Note:  Each session is 20-minutes. The number of sessions for this program is dependent on what I intuit by reading your energy when we do the Evaluation Section.
---
THE SESSIONS

:
Blasting Away Your Abundance, Wealth and Success Blocks sessions are done over the phone, Skype and/or email. I work with people from all around the world using Skype and email.
---
MY SCHEDULE

:
Monday – Friday 9:30 a.m. – 4:00 p.m. Pacific Time
Saturdays 9:30 a.m. – 11:00 p.m. Pacific Time
---
**NOTE: I ask everyone receiving a Body Code, Emotion Code or Blasting Away Your Abundance, Wealth, and Success Blocks session to keep an open mind and to be patient with his/her own results. Some people notice improvement right away, while for others, it may take a while longer; at times from one week to even a month. If issues recur, it simply means that there is more work to be done!
Please realize some conventional tests are not reliable, such as regarding Parasites, when in fact a person may have them in their body, a conventional test may not show this.  When these imbalances are not detected through conventional tests, they WILL eventually show up and cause dis-ease with a myriad of symptoms in our bodies.
IN ORDER TO CONTACT ME DIRECTLY:
By Email: [email protected]
By phone: 408-300-8348 
---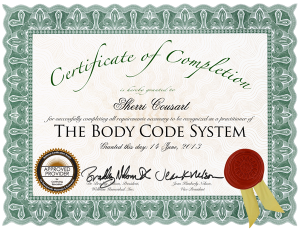 DISCLAIMER
Note: A Body Code Practitioner does not diagnose medical problems nor is a substitute for the need for medical attention or Psychological counseling. What the Body Code Practitioner can do is discover and release emotions and other energies and imbalances (hidden, underlying and/or secret) that are trapped in the body that are contributing factors to mental/emotional and/or physical issues. These releases then free the body, mind and spirit to balance with Its own innate Healing Intelligence.